Thru the Bible - Questions & Answers with Dr. J. Vernon McGee
Listen on 93.9 KPDQ
Sunday
3:30AM - 4:00AM, 7:30AM - 8:00AM
Latest Broadcast
Questions & Answers 3110
5/21/2022
1) What was Paul's thorn in the flesh mentioned in 2 Corinthians 12:7? 2) Is it right for a divorced person to remarry if they are the innocent party? 3) Dr. McGee explains the meaning of the Spirit of God moving over the waters in Genesis 1:2. 4) What is a carnal Christian? Is it a new believer, a slow maturing Christian, or a backslider? 5) Who are the dead in Christ who rise first when Jesus returns? 6) Does Matthew 19:28 teach that Judas was saved? 7) How did Satan commit his rebellion in heaven when God does not allow sin into heaven? 8) Why did Aaron, the high priest, not prevent the people from demanding the making of an idol? 9) What is your view of Proverbs 31:4-7 on strong drink?
Featured Offer from Thru the Bible - Questions & Answers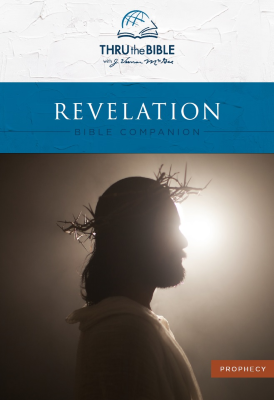 Revelation Bible Companion
A summary of Dr. J. Vernon McGee's teaching of Revelation heard on THRU the BIBLE, this companion gets to the heart of Bible passages and is intended to stir your own thinking, prayer, and study. After every lesson, several questions are listed for your personal consideration or, if you're reading with a group, for your discussion. Read it with your Bible open and your heart ready to go deeper as the Lord leads you through His Word. More titles are available at TTB.org/booklets.