A Prayer for Fall - Your Daily Prayer - September 29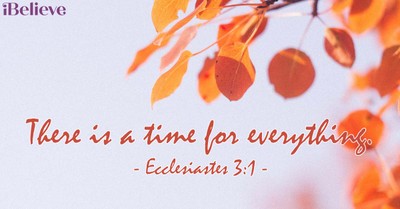 By Emma Danzey, Crosswalk.com

A Prayer for Fall
By Emma Danzey
Ecclesiastes 3:1 says, "There is a time for everything, and a season for every activity under the heavens."
It is about to be a time of season change here. As I looked outside my kitchen window, the tree across the street gave me a preview of what is to come. The green leaves are starting to turn into vibrant reds, oranges, and yellows. The season of fall is a reminder to us in many ways of the underlying work of our Creator that comes forth. Just like these leaves become brand new and beautified, by the help of the Holy Spirit, our lives can go through the same type of process of spiritual transformation.
Today as we pray for the upcoming fall, may it be a reminder to us of the work of God in our lives and hearts. We are being made into His image and transformed into His likeness. As Ecclesiastes shares, there is a season for everything, and we can press into this season of Autumn and reflect on our great God.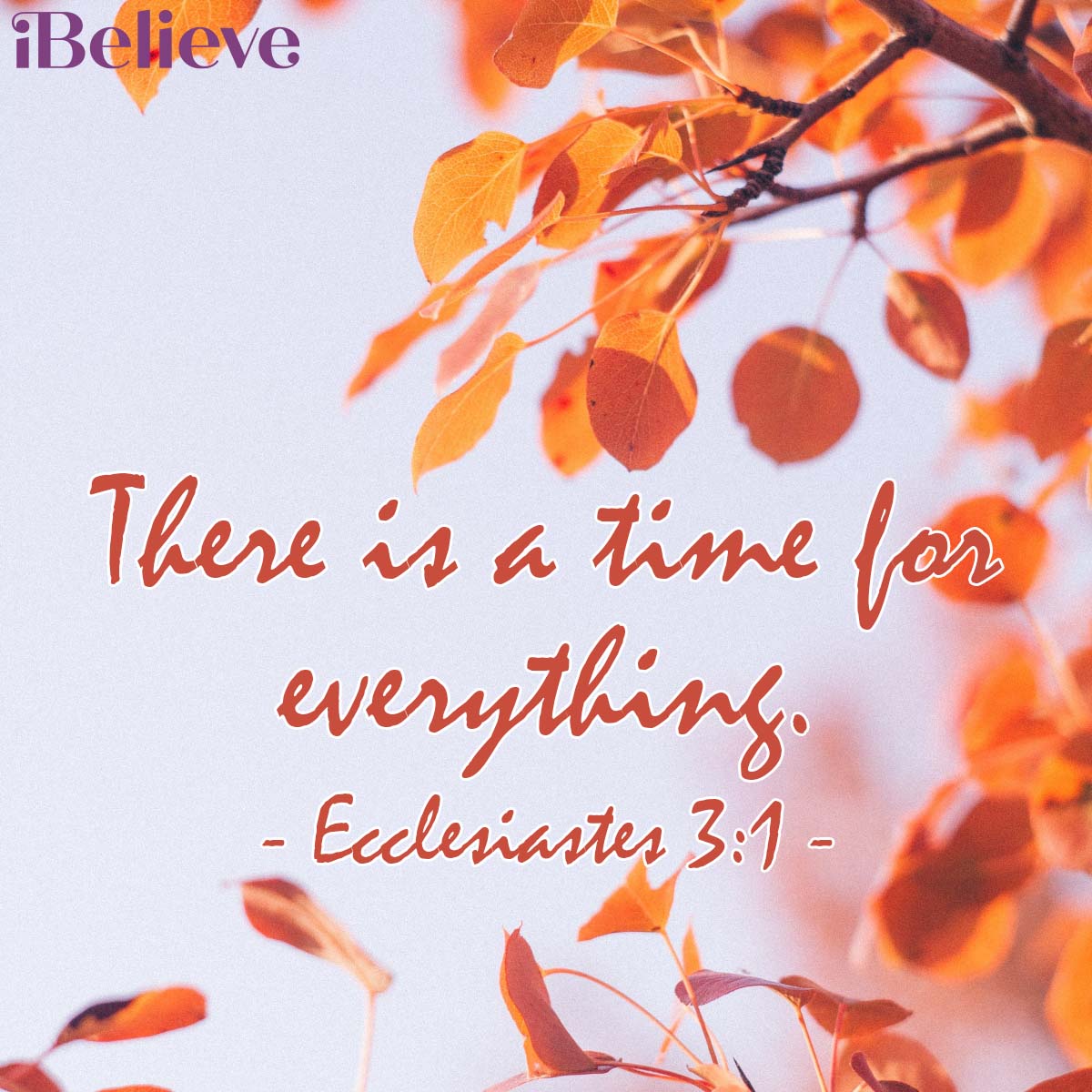 Let's Pray:
Dear Creator of All,
Thank you for the beautiful changes that are coming. Thank you for the crisp fall air, the colorful unveiling of your glory, the harvest of many fruits and vegetables, and the finale of your year-long process. As we reflect on Your goodness today, thank You for the season that reminds us that You make all things new. Thank you for the time of year that brings coolness, abundance, and bright colors.
As I look at your creation through nature, would You remind me of Your glory? Reveal to me Your power and Your grace. No matter what I am going through in this time, help me to open my eyes to see the visual that You are working and are not done with me. I confess the areas of sin and darkness in my life. Help me Holy Spirit to be renewed by You day by day. I lay down my agenda. I lay down my plans for what life should look like and entrust myself to you. Just as you make the trees look more beautiful than before, Your plans and your ways are higher than my own.
You say in Psalm 104:19, "He made the moon to mark the seasons, and the sun knows when to go down." You are the One who created the moon to reveal the season. Different times of year have different lengths of days for a reason. Different seasons have different temperatures and beauties about them. Fall is such a lively and exciting time of celebration and life. Help my soul to join in with the praise from nature, worshiping You, the Creator.
Jesus, You celebrated the feast of trumpets, the day of atonement, and the feast of tabernacles during this season of fall. These were times of repentance, forgiveness, joy, and celebration. As we stand on this side of the cross and resurrection, may we not forget the work that You have done on behalf of all who accept You as Savior Jesus. We pray that we would allow You to examine our hearts and refine any areas that need to be made more like You. Help us to be reminded of this in this season of the saving grace of Christ. Help us to remember that we have been given such forgiveness and identity in You.
Lord, the leaves that are turning are dying and becoming more beautiful. Would this be a visual reminder to me to die to myself, pick up my cross, and follow You each day? To live is Christ, to die is gain. Help me to not live by my flesh but by the Spirit so that others can see You. I pray my life would be an aroma of You. May others see my actions and hear my words and know that You are the Living God and You love them.
Fall is also a time of slowing down. Father, would you enable me to remember to pace myself? Would you help me to find rest in You and strength to accomplish the tasks ahead with You? Help me to live out of a place of being secure in You. Amen.
Photo credit: ©SalemDesign/BethanyPyle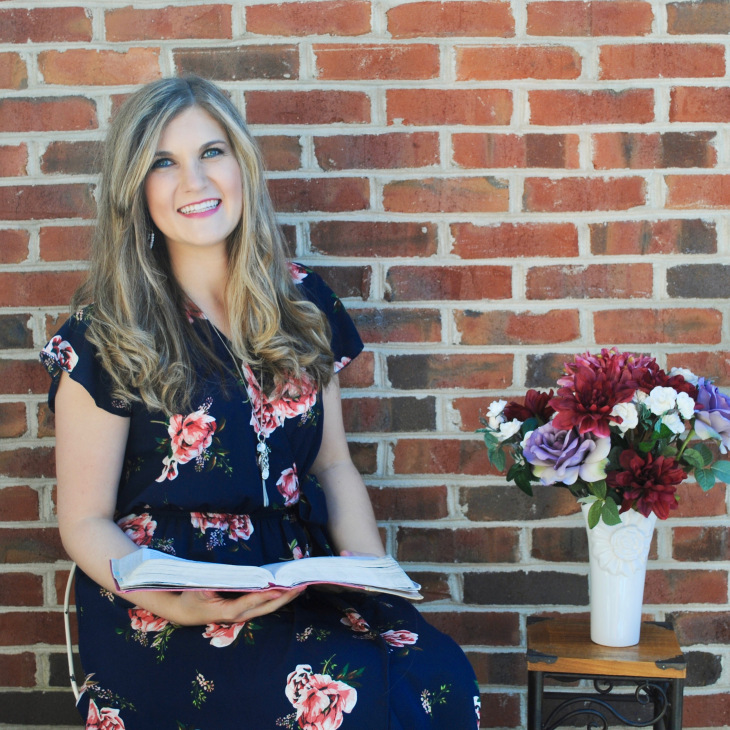 Emma Danzey's mission in life stems from Ephesians 3:20-21, to embrace the extraordinary. One of her greatest joys is to journey with the Lord in His Scriptures. She is wife to Drew and mom to Graham. Emma serves alongside her husband in ministry, she focuses most of her time in the home, but loves to provide articles on the Bible, life questions, and Christian lifestyle. Her article on Interracial Marriage was the number 1 on Crosswalk in 2021. Most recently, Emma released Treasures for Tots, (Scripture memory songs) for young children. During her ministry career, Emma has released Wildflower: Blooming Through Singleness, two worship EP albums, founded and led Polished Conference Ministries, and ran the Refined Magazine. You can view her articles on her blog at emmadanzey.wordpress.com and check out her Instagram @Emmadanzey.
LISTEN to More Christmas Prayers on LifeAudio
Teach Us to Pray is a FREE prayer podcast hosted by iBelieve writer Christina Patterson. Each week, she gives you practical, real-life tips on how to grow your faith and relationship with God through the power of prayer. To listen to her episode on What to Pray in the Morning for a Worry-Free Day, click below!


Now that you've prayed, are you in need of someone to pray for YOU? Click the button below!

Visit iBelieve.com for more inspiring prayer content.