Toddler Followed a Trail of Bubbles Right to a Missing 82-Year-Old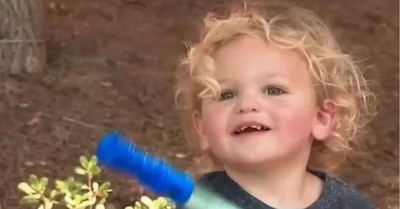 By GodUpdates www.godupdates.com, Crosswalk.com
Nina Lipscomb is an 82-year-old woman with early-stage Alzheimer's Disease who was reported missing by her family. Her son, Thomas Lipscomb, shared that his mother was in town visiting with family, and they had not realized that she had wandered out of her niece's home.
After multiple days of searching for Nina authorities and community members, a little boy named Ethan found her!
Ethan is 1.5 years old, and he and his mother, Brittany Moore, were outside playing with bubbles in their yard. Ethan started to chase the bubbles near their fence, and that is when he said something surprising to his mom.
"Feet!" the young toddler said. Something had caught his eye in the nearby woods, and he was trying to let his mother know about it.
The feet did belong to Nina, and when she was rescued, the 82-year-old was conscious and alert.
"We pulled out every resource we thought we needed," Nina's daughter, Karen Lipscomb, said. And at the end of the day, "it was a little boy" who saved the day.
"Angels come in all shapes and sizes," Karen wrote in a social media post, praising little Ethan for saving her mother.
After Nina recovered in the hospital, she was able to meet Ethan once she was released. Thank the Lord for the way He used this little boy to reunite Nina with her family!
Featured Image Credit: YouTube
Article originally published on GodUpdates. Used with permission.
LISTEN: They Lost Their Son, Now Strangers Make His Dream Come True | Woman Pays Lottery Winnings Forward