Pentatonix A Cappella Performance of 'Silent Night'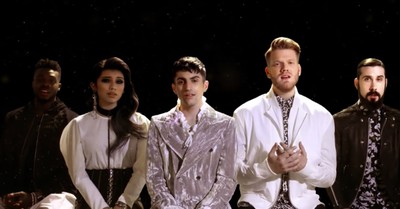 By from GodTube.com, Crosswalk.com
The incredible A cappella voices of Pentatonix perform the classic hymn 'Silent Night.'
This iconic song is always a favorite this time of year. The lyrics truly remind us of the significance of the birth of our Savior, Jesus Christ.
"Silent night, holy night
All is calm, all is bright
Round yon Virgin, Mother, Mother and Child
Holy infant so tender and mild
Sleep in heavenly peace
Sleep in heavenly"
Today, Pentatonix is coming together for a special live rendition of 'Silent Night.' We first met these A cappella sensations when they appeared on the third season of 'The Sing Off.'
After winning the entire competition, Pentatonix went on to achieve worldwide success with cover songs such as 'Hallelujah' and 'Mary Did You Know.' While they sing all year long, their most popular songs are Christmas hymns.
Today, they are blending their vocals together perfectly to proclaim the birth of our King.
"Silent night, holy night!
Shepherds quake at the sight
Glories stream from heaven afar
Heavenly hosts sing 'Alleluia!
Christ the Savior is born
Christ the Savior is born"
It was truly a miraculous night in that little town of Bethlehem. One tiny baby was about the change the entire world. That is certainly a blessing to be thankful for this holiday season and all year long.
"For to us a child is born, to us a son is given; and the government shall be upon his shoulder, and his name shall be called Wonderful Counselor, Mighty God, Everlasting Father, Prince of Peace" (Isaiah 9:6).
Photo Credit: ©PTXOfficial