Karen Abercrombie Talks Guardians of the Galaxy 3, Heaven Sent and Acting as a Ministry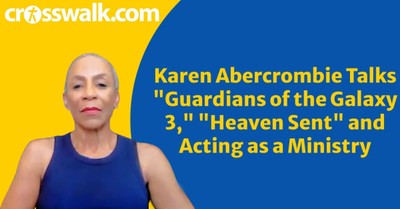 By Michael Foust, Crosswalk.com
Fans of the faith-based film genre who also enjoy superhero movies saw a familiar face on the big screen toward the end of the new blockbuster hit Guardians of the Galaxy Vol 3.
Karen Abercrombie, the Christian actress who starred in such popular faith-based titles as 2015's War Room and the 2023 movie Heaven Sent (now on home video), portrays Grandma Quill in the final minutes of Guardians of the Galaxy Vol 3. Grandma Quill is the wife of Grandpa Quill, the grandfather of Peter Quill/Star-Lord (Chris Pratt).
"It was an honor," Abercrombie told Christian Headlines.
Abercrombie landed the role after an audition.
"One of my agents reached out to me ... and asked if I would be interested," she told Christian Headlines. "And I was like, 'Yeah, sure.' And then I did the audition. And we started communicating with Marvel [the studio]. And then everything went quiet. And then I got another email – 'We're going to start taping in Atlanta.'"
Having a part in a major Marvel film was an "opportunity to be there and be light and just love on people and use the gifts I've been given," she said.
Abercrombie believes "God is going to start taking back territory" – territory "from darkness – all of entertainment, all of the media."
Thumbnail courtesy: ©SWN Design