Fun Ways to Ring in the New Year with Your Family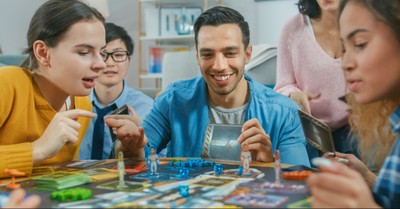 By Jaime Jo Wright, Crosswalk.com
Some of my favorite New Year's Eve memories were made at home. I recall some close family friends coming over, us kids being told we get to stay up past midnight (huge!), and the camaraderie of fellowship in a safe, cozy environment. I remember the fathers discussing future apocalyptic signs of the new year, the mothers taming the discussions to something more palatable like home-school curriculum or a ladies' day out in the new year, and the kids running through the house spying on the parents.
And here we are again! Winding down to the last 24 hours of the year! Perhaps your family is in quarantine, and celebrating the new year will be a home event. Or maybe you have younger kiddos, and your family wants to do something special to commemorate saying farewell to another wonky year. Whatever the case may be, there are some fun ways to make the 31st memorable—and you can recycle these ideas year after year! I sure do!
1. Food
I mean, every good home party needs to have good food, right? We picked a family favorite and made it into a New Year tradition. Ours was a big vat of chili, and then we'd spread the counter with all the "fixin's." Sour cream, chives, cheddar cheese, oyster crackers, corn chips, cornbread, honey butter - hungry yet?
Because food seems to be an essential part of everyday life, you may be wondering why it's even being brought up as something unique for New Year's. Here's my theory: the senses attach themselves to memories. Whenever I have a bowl of chili, I'm instantly transported back to my New Year's memories. It never fails to surprise me the warm feelings I get from those instantaneous recollections, and I want to build the same in my kids. Good memories we can feast on decades later!
2. Games
Let's not discount old-fashioned board games. I think sometimes we get sidetracked by the electronic devices that we all enjoy but often play individually or virtually, excluding those around us. Try pulling out some classic board games this year and make memories by returning to simplicity. Some games we played as a child that I still love today (thanks to New Year) are:
Arousing game of Monopoly! We made it fun by racing to see who could get specific properties first. My goal property was always Marvin Gardens. Why? I have no clue. This year, my son has adopted Park Place as his go-to must-have, and there's a lot of yelling and screaming as others near it before he does. It makes for fun laughter. Also, you can spice up Monopoly very easily by putting all purchases into the "jackpot." Buying property? Put the purchase price in the middle. Owe taxes? Throw it in the middle of the board. Land on Free Parking? Get rich!
We apologize a lot when we play Sorry. If you can find the classic version, that is my personal favorite. But even now, with the new elements like Fire and Ice, it adds some spice to a game that the kids love. Freezing another opponent is just another reason to say you're sorry, and this is a game that kids of all ages can play and enjoy!
Clue. Solving mysteries was perhaps my personal favorite of the holiday. I was always Col. Mustard, and I was certain that the majority of the time, Prof. Plum was, in fact, the murderer—although it seems to be that Miss Scarlet is much of the problem. Learning deduction laws is also fun for the littles, and you can make it a family game by pairing up as teams too! And there's nothing so delightful as the kids finding out that it was mommy, in the kitchen, with a candlestick! It brings new tension to snack time.
3. Moments
You can also plan special moments throughout the night. Creating your own memorable countdown hour by hour. Consider starting at 9 pm and having a special four-hour countdown. This means gathering every hour on the hour before the stroke of midnight and taking four opportunities to ring in the New Year.
Hour 1 – Gather together and have everyone write down a favorite memory from the year. Put the memories in a bowl, and then have fun, each taking a random memory and sharing it. See if you can match the memory to the writer and have some fun reminiscing on the good things that happened during the year.
Hour 2 – Gather together and share three things (or however many you wish) that you would like to see God help you with in the coming year. Teaching children that new goals are good, but including the Lord in their plans is even better. Then, once shared, have everyone choose another person they will pray for through the upcoming year and get excited to see how God will work specifically in that person's life!
Hour 3 – Spend a few minutes in prayer together. Take time to thank the Lord for the provisions of the past year, bring the new year before the Lord in surrender and request for guidance and His leading, and then allow time to pray for specific people that your family has brought to mind. This will help teach your children that prayer is foundational to all things in our lives, including the unknown elements of a new year.
Hour 4 – Well, this is the moment we've all been waiting for! Turn the ball on and watch it drop if you'd like. Sometimes we would blast music loud and all scream and shout. Let the kids go crazy. Offer confetti to throw if you're brave and don't mind cleaning it up later. Instead of kissing, go around sharing hugs and high fives. Then, when all the celebration is over, take a moment to laugh and love and drink in the memories.
New Year's Eve doesn't have to be complex. It also doesn't have to be spent sitting in front of the television watching other people celebrate in New York. This is a prime opportunity to make those memories that will stick for years to come. It is a moment in time to capture and build solid friendships, both with family and friends. It is an opportunity to teach your children about the influence of the Lord in your lives from the year past and heading into the year present.
Some of us don't feel as if there is a lot to celebrate from this year. Many of us are staring into the next year with trepidation and concern. But coming together can bring a fresh, renewed perspective. Being able to see the new year through the eyes and anticipation of your children can encourage you to have the faith of a child. Let's go into the new year with intention. Building memories, emphasizing faith and gathering together with the ones we hold most dear. New Year's can be as precious as Christmas. It's up to us to make it so, and it can be a simple as a bowl of chili, a game of Monopoly, and a time of remembering.
Photo credit: ©GettyImages gorodenkoff
Jaime Jo Wright is an ECPA and Publisher's Weekly bestselling author. Her novel "The House on Foster Hill" won the prestigious Christy Award and she continues to publish Gothic thrillers for the inspirational market. Jaime Jo resides in the woods of Wisconsin, lives in dreamland, exists in reality, and invites you to join her adventures at jaimewrightbooks.com and at her podcast madlitmusings.com where she discusses the deeper issues of story and faith with fellow authors.