Why it's Dangerous to Try and Mind-Read Your Spouse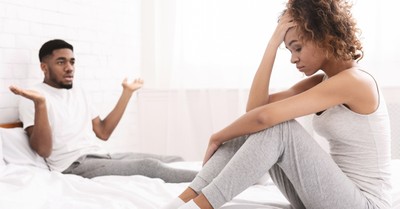 By Dr. David B. Hawkins, Crosswalk.com
I've decided that we think we know a whole lot more about others than we really know. I'll share a case in point from a couple who came recently to The Marriage Recovery Center.
Jack was a handsome, self-assured military man of some accomplishment, having achieved a high rank in a relatively young age. He was heading for high places in the military—but was struggling mightily in marriage.
"I've got a certain amount of time to achieve rank," he said. "If I don't, they pass you by. I'm not going to miss my chance."
Jack was goal-directed, focused and quite driven. Not surprisingly, Jack had married an equally powerful woman. Jessica was successful in her own right, having obtained her Certified Public Accountant status before thirty years of age. She too was focused, determined and dominant. Both of them were leaders in their respective circles.
You might think that this young couple, with so much talent and promise, would do just fine in marriage as well. Not so. You see Jack and Jessica were caught in the throes of what Scripture warns about when it says "For by the grace given to me I say to every one of you: Do not think of yourself more highly than you ought, but rather think of yourself with sober judgment, in accordance with the faith God has distributed to each of you" (Romans 12:3).
"He likes to tell me what I'm thinking and feeling," Jessica complained.
"I tell the truth," he explained. "You can't say that I make things up."
"You can't tell me what I'm thinking and feeling," she continued. "When you tell me that I don't know what I'm talking about, or that I better listen to you because you know what is best, that drives me crazy."
"You do the same thing, Jessica," he said. "How is that different from you telling me that I shouldn't push for rank because that isn't best for me. How do you know what is best for me?"
"It's just my opinion," she explained. "Aren't I entitled to tell you what I think?"
I decided it was time to jump in.
"Folks," I began slowly. "I sense that both struggle with what has been called mind-reading. This is when you tell your mate what they are thinking or state what is best for them. Only they are able to share what they are thinking or feeling. You can share impressions or offer opinions carefully, but you must guard against telling someone what they are thinking or feeling. Did you see how you both became defensive when your mate steps into your brain?"
"I think we both mess around in each other's brains," Jessica said. "It usually ends up in a fight. I hadn't noticed what was going on, but I can see that it's not a good thing to do."
Here are a few additional considerations on this topic:
First, we often think we know what someone is feeling and thinking. While we may have a pretty good idea of what our mate or friend thinks, we cannot possibly understand the complexity of their thoughts and feelings. It is difficult enough for us to know the layers of our thinking and feeling, making it nearly impossible for others to fully and completely understand us.
Second, we often believe we have the right to share these thoughts. Armed with information and a dose of self-righteousness, we often feel free to tell others what they are thinking and feeling, having little awareness of this violation. We do not have the right, or permission to share these opinions.
Third, mind-reading is an emotional boundary violation. Telling someone what they are thinking, what they believe or what they feel, is a major emotional violation. We are in sacred space when we tell someone what is best for them or what they ought to do. This does not mean we cannot, or should not, ask permission to share impressions or concerns. But, it must be done oh so carefully.
Fourth, mind-reading and other violations creates a lack of safety in the relationship. We must recognize mind-reading as one of many boundary violations. Telling someone that we know what they are thinking, or why they are doing what they are doing, is hurtful and creates a lack of safety in the relationship. We will not likely be vulnerable and transparent with someone who uses our vulnerability against us.
Finally, practice respecting others and their beliefs. A healthy relationship is based upon profound respect for the other person. We recognize our differences and are not threatened by them. We don't need others to agree with our beliefs or feelings. We honor their feelings and point of view, as much as we might disagree with them. We stop ourselves from 'getting into their brains' and manage our own lives.
Which is better, connection or separation? The choice is easy. Do you long for caring connection? We are here to help. Please go to our website, www.marriagerecoverycenter.com and discover more information about this as well as the free downloadable eBook, A Love Life of Your Dreams, including other free videos and articles. Please send responses to me at [email protected] and also read more about The Marriage Recovery Center on our website. You'll find videos and podcasts on sexual addiction, emotionally destructive marriages, codependency and affair-proofing your marriage.
Publication date: February 4, 2014
Photo credit: ©GettyImages/Prostock-Studio