8 Bad Marriage Habits You Need to Break Right Now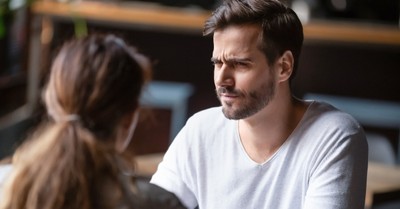 By Dr. David B. Hawkins, Crosswalk.com
I sat back and silently observed a couple behaving badly who had come for a Marriage Intensive. It wasn't like their behavior was "over the top" bad. Just a sequence of bad habits that fractured their emotional connection.
Tragically, they did not see their behavior as unusual or hurtful.
After watching Joseph and Kari bicker for five minutes, with hardly a pause, I interrupted them.
"Folks," I said sincerely. "Can you see how you talk over each other? Do you notice when your mate stops listening and interrupts to make their point?"
"I guess," Joseph said tentatively. "I'm not sure I see anything wrong with the way we talk to each other."
"Why don't you check in with Kari," I said, "to see if she has any problem with it."
"He's always talking over me," Kari said. "Or, he gets a tone that is so condescending. Or else he interrupts me to make his point."
Joseph shrugged.
"Folks," I said slowly. "I think you both have developed some bad habits that really impact your marriage. Any of those behaviors may not seem like much, but layered onto each other can lead to disaster."
Bad behavior is often learned and then repeated again and again. Bad behavior practiced over and over leads to habits—habits that interrupt an otherwise healthy relationship.
Consider some of the following bad behaviors:
1. Talking over your mate
2. Interrupting your mate
3. Shaming your mate
4. Rolling your eyes dismissively
5. Being accusatory of your mate
6. Stonewalling your mate
7. Acting disinterested
8. Refusing to take responsibility for bad behavior
Again, one of these behaviors, done rarely, will not necessarily cause severe damage. But any one, done repeatedly, will cause severe problems. And several of these behaviors in combination will hurt a marriage significantly.
As I pointed out what I call self-defeating behaviors, Kari asked the million dollar question:
"How do we change?"
"Great question," I said. "Let's talk through some tools you can learn that will interrupt these bad behaviors and what can be done to learn new, healthy behavior."
With that I walked them through the process of changing bad habits, reminding them that change ultimately comes from our faith in Christ: "For by grace you have been saved, through faith—and this is not of ourselves, it is the gift of God." (Ephesians 2:8)
Let's consider what we can learn from this story and the story of my wife touching me on our drive today:
First, agree that bad behaviors need to change. You will not change what you don't acknowledge as bad or hurtful behavior. This often requires someone outside of ourselves, such as a pastor or counselor, pointing out the detrimental impact of behavior. Behavior that is justified and rationalized will not likely change;
Second, agree on the bad behavior you are going to target. Perhaps with the help of a trained Marriage Counselor, determine what behavior is hurtful, why and how it is hurtful, and agree on the behavior to be targeted;
Third, agree to confront bad behavior with grace. After agreeing on the hurtful behavior, agree that you will be gracious with one another. None of us are perfect and we dare not create an environment where each and every mistake is highlighted. Rather, healthy couples attempting to grow agree that they will confront each other with love and grace, remembering this helpful Scripture:
"Brothers and sisters, if someone is caught in a sin, you who live by the Spirit should restore that person gently." (Galatians 6:1)
Fourth, agree on how you will interrupt bad behavior. Utilizing the above Scripture, it is important to establish a pattern of gentleness in confronting each other. The person confronting cannot take on an attitude of superiority. The one being confronted must have an attitude of openness and receptivity;
Finally, agree on how you will hold each other accountable for change. This is a tricky endeavor and must be done with one another's permission. Making statements (cues) such as these can help: "Would you say that a little softer," or "Would you be willing to tell me directly if something I'm saying is bothering you?"
It is easy to develop bad habits. Fortunately, bad habits can be broken and replaced with healthy, loving habits.
Practice the above strategies and let me know how they work for you. Please send responses to me at [email protected] and also read more about The Marriage Recovery Center on our website. You'll find videos and podcasts on sexual addiction, emotionally destructive marriages, codependency and affair-proofing your marriage.
Photo credit: ©GettyImages/fizkes
Dr. David Hawkins, MBA, MSW, MA, PhD, is a clinical psychologist who has helped bring healing to thousands of marriages and individuals since he began his work in 1976. Dr. Hawkins is passionate about working with couples in crisis and offering them ways of healing their wounds and finding their way back to being passionately in love with each other.
Over the past ten years, Dr. Hawkins has become a leader in the field of treatment for narcissism and emotional abuse within relationships. He has developed several programs for treatment of men dealing with these issues and the women who love them. Dr. Hawkins is also a speaker & trainer for the American Association of Christian Counselors and writes for Crosswalk.com, CBN.org, and iBelieve.com. He is a weekly guest on Moody Radio and Faith Radio and is a best-selling author of over thirty books.