8 Key Reminders That Happiness Has Nothing to Do with Money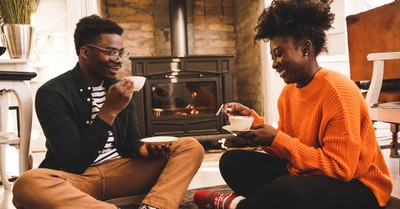 By Sarah Landrum, Crosswalk.com
"God never gives us more than we can handle," it's said. Sometimes, it takes two hands. Other times, it takes more.
The word "more" seems infinite, like God's creations. Humans are requiring and acquiring more out of life than can be sustained, especially when you're living paycheck to paycheck. The car breaks down. You dig through old coats and at the bottom of bags for enough money to feed your family. The weight is mighty.
When you get a good job with benefits, there's still more. You're stuck with a hospital bill. You buy a bigger house and have to fill the rooms. The kids need something for school.
You feel like you have to obtain certain things to open certain doors in life. For some, the association of money and happiness becomes an obsession that's hard to turn away from. The truth is that happiness has absolutely nothing to do with money. There are many doors to happiness, and many doors that happiness opens.
1. Being With Family and Friends
Spending time with your family and friends reminds you of where you came from and gives you a sense of belonging and interconnection. These relationships are intrinsic to your well-being.
Whether it's having a silly conversation with a friend or enjoying a cookout with your family, these are your people. They know who you are and how you've grown, and what your struggles and joys are.
Having people in your life who understand you, and simply being with them, provides an abundance of joy when you need it the most.
2. Play More!
Even as an adult, you're allowed to play! Remember staying out as late as possible to play until you were called in for dinner? How about jumping rope, riding bikes and using your imagination to create whole new worlds and possibilities? It's a real joy to get so caught up in what you were imagining that time passes by without you noticing.
Children today play eight hours less each week than two decades ago, and adults are much worse. When's the last time you ran around – for fun? Or started up a playful game in the back yard?
Becoming playful applies to any area of life, from exercise routines to how you see your day. Play is a reminder that you can actively create and take steps toward your dreams, that you can relax and have fun. When you're spontaneous, the world opens up to you and offers unique perspectives.
3. Being Alone, but not Lonely
Not enough people give themselves space for solitude, to deeply discover and appreciate their own unique heart and way of being. This comes in the form of taking naps, reading books, working on a hobby or taking a walk in nature. You may be alone, but you don't have to be lonely.
Throughout your life, you will experience and witness many struggles and sorrows. A family member, friend or pet will pass away. Tragedy will strike. These experiences leave you feeling the most alone, but can also provide opportunities to remember the good times, and to see the good acts that people around you do.
4. The Gift of Small Kindnesses
Do unto others as you would do unto yourself. It's the Golden Rule taught to all children: To treat people as you'd expect be treated.
When you've had a bad day, every little thing that goes wrong adds to your frustration. When it's been one of those days, a small kindness from a friend or stranger really lifts your spirits. When you do a kindness for another, such as opening a door or paying a compliment, that kindness spreads.
5. Laugh more!
Humor is such a clever and unique gift from God. He gives you the ability to laugh at yourself and the ironies of life. Every person has an individual sense of humor, and a dark day is quickly made light with a good laugh!
Recall Genesis 21:6 when Sarah said, "God has made laughter for me, everyone who hears will laugh with me." It is true — laughter is contagious!
When you hear the sound of laughter, your brain responds and triggers the muscles in your face to interact. You find you can't help but laugh, too! In fact, new research claims positive emotions may be contagious, just like laughter.
6. As Luck Would Have It…
Going back to ancient Greek, in all Indo-European languages, the word for happiness has the same linguistic derivation as the word for luck. This linguistic pattern implies that even our ancestors knew happiness was something you couldn't control, trade or buy. When people think of happiness, they associate the word with a feeling of being fortunate for what they have.
That doesn't mean you get happy out of the blue, but there's definitely something to surrounding yourself with joy and feeling appreciative for the good things in your life.
7. Motion Boosts Positive Emotion
You may think of exercise as routine maintenance, but it's known to improve your well-being and help with depression and mood shifts.
New research suggests that exercise and activity affect the structure of the brain itself through neurogenic effects. That means exercise triggers the release of a compound called cathepsin B, which sparks the growth of new neurons in the hippocampus (the area affected by depression and dementia).
Even a regular walk or bike ride will help elevate your mood, as you get out and participate in life, witnessing nature and all of creation that surrounds you.
8. Appreciation for the Little Things in Life
Seeing your daughter get married. Getting your first apartment. There are big, important milestones you'll remember for life, but it's often the little details that you carry with you. What your daughter whispers in your ear before you walk her down the aisle, or that feeling of creating a home for yourself for the first time.
Some memorable little moments are found within others you'd think would be quickly forgotten. Seeing the most beautiful flower or the smell of a freshly baked pie. Details overwhelm your senses with beauty and power. Appreciate the small stuff, and let those experiences take residence in your heart.
Happiness blooms in unexpected places, in small still moments where a stranger or family and friends share their stories and lives with you. Happiness is found in enjoying your time with yourself, trying new activities and getting active.
Money may assist with buying your first apartment, but the happiness you feel in that apartment comes with the feeling of being home, of creating a space for yourself. Money isn't everything, and happiness requires no down payment.
Related Resource: Check out our FREE young adult podcast Big Pond, Little Fish! Host Alyssa Roat joins other young professionals in a podcast exploring life, career, family, friends, and calling from the perspective of a young Christian fish trying to make a splash in the world's big pond. All episodes are at LifeAudio.com. Check out episode one here:
Sarah Landrum is a freelance writer on a mission to change the world and help people live happier, more enriched lives. She is also the founder of the career and happiness site Punched Clocks.
Photo credit: ©GettyImages/fotostorm
Related podcast:
The views and opinions expressed in this podcast are those of the speakers and do not necessarily reflect the views or positions of Salem Web Network and Salem Media Group.
Related video:
There are still things you can do with a little ingenuity and a sense of adventure to make a great vacation for little or even no money. Here are seven low-budget trips you can take this year.