Biblical Joy - The Key to Perseverance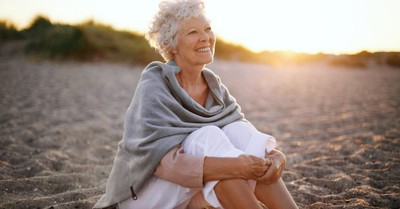 By Gina Smith, Crosswalk.com
"The (biblical) joy of the Lord is my strength…" Nehemiah 8:10
When I was in my 40's, I remember suddenly being struck with the reality that I was no longer considered to be "young"! My children were in their teens, and I watched as many of my peers started to become weighed down and discouraged as they faced different struggles with their children and life got harder. I also observed some older than me as they settled into becoming set in their ways, discouraged, and bitter because of what life had handed them. Some have even walked away from their faith.
As the years have gone by, I have seen more and more people my age or older giving in to discouragement. Life has gotten more challenging, and they are no longer the zealous, vibrant believers they once were.
I vowed not to allow this to happen as I got older.
Then life took a turn for my family and me, and we began a long journey of very difficult, life-changing circumstances. I found myself battling depression and anxiety, wondering what my purpose in life was. Then, I began to understand why so many of my peers, and those who are older, might struggle and give up. Still, I was determined to fight!
I desperately wanted to know how to persevere in my faith in a way that would shout to those around me that God is faithful and that he is enough, even when life gets harder and harder!
It's been over ten years, and I am now approaching my 60th birthday. I have been on a quest to learn, experience, and live out what it means to have biblical joy, regardless of my circumstances. I don't want to be that older person in the church who has become bitter and has given up (even though I have a deeper understanding of why some might end up making that choice.) I want to fulfill the calling that is given to the older generation – to proclaim to the younger generation that God is faithful.
"One generation shall commend your works to another, and shall declare your mighty acts." (Psalm 145:4)
So what can we do to prevent ourselves from giving up as we get older? What can we do so that we don't give in to discouragement as life gets harder? (and it will!) We must learn to focus on the only stable thing in this life – God-the provider of all things. The enemy of our soul has a full-time job to try to get our focus off the One in whom biblical joy is found.
"Be sober-minded; be watchful. Your adversary the devil prowls around like a roaring lion, seeking someone to devour." 1 Peter 5:8
Biblical joy is found when we focus on our God, which needs to be a daily choice we make no matter what season we find ourselves in. We must learn what the Bible says about God, who he is, and His promises. We must learn to do the next thing and persevere even when life is hard.
I love how it is worded at gotquestions.org: "James tells us in chapter 1 that the Christian who perseveres in godliness and the spiritual disciplines will be blessed in the very act of persevering. The more we persevere in the Christian life, the more God grants His blessings upon us, thereby enabling us to continue to persevere. The psalmist reminds us that there is great reward in persevering in the Christian life. In keeping God's commandments, there is "great reward" for our souls (psalm 19:11), peace of mind, a clear conscience, and a witness to the world more eloquent than many words."
Biblical joy is not something that comes and goes; our circumstances do not dictate it. Biblical joy is something that exists even when we are suffering or going through a heavy trial because it is based on the knowledge that God is present, walking with us in our trials, producing good fruit in us as we go through the hardship, and will use it as a platform for him to be seen by others.
"Count it all joy, my brothers, when you meet trials of various kinds, for you know that the testing of your faith produces steadfastness. And let steadfastness have its full effect, that you may be perfect and complete, lacking in nothing." (James 1)
Life is good — but life is hard. We are in a battle with the enemy of our souls!
"For we do not wrestle against flesh and blood, but against the rulers, against the authorities, against the cosmic powers over this present darkness, against the spiritual forces of evil in the heavenly places." Ephesians 6:12
Learning about and clinging to God's promises is the key to finding biblical joy and is the only way that we will be able to persevere in our faith.
"For your kingdom is an everlasting kingdom. You rule throughout all generations. The Lord always keeps his promises; he is gracious in all he does." Psalms 145:13
This will enable us to become that older saint who can proclaim God's faithfulness to those around them because they have experienced a deep walk with God as he has accompanied them through their heavy trials of life.
"For the LORD is good; his steadfast love endures forever, and his faithfulness to all generations." Psalm 100:5
This is the introduction to a series of articles on biblical joy. Join me as I look at some of the struggles we all face and how to find biblical joy in these circumstances.
A few of the struggles we will look at are:
-How to find joy in loneliness
-How to find joy when life doesn't look like you thought it would
-How to find joy when you face depression
-How to find joy in grief
-How to find joy in the daily grind
-How to find joy when a child rebels
-How to find joy when the church disappoints you
-How to find joy when your health fails
-And more!
Together we will learn how to:
-Find joy as we focus on God and who He is (God's character qualities and who He is.)
-Find joy as we give thanks for all He has done and all the ways that He has been faithful.
-Find joy as we focus on God's promises in His Word. (Promises for the future)
-Find joy as we focus on His temporal provisions. (The provision of all our needs)
I pray that, together we will learn and experience what James 1:2 promises:
"Blessed is the man who remains steadfast under trial, for when he has stood the test he will receive the crown of life, which God has promised to those who love him."
And that we will choose biblical joy, one day at a time, so that we can persevere in our faith and "be a witness to the world more eloquent than many words"!
Photo Credit: ©iStock/Getty Images Plus/jacoblund
Gina Smith
is a writer and author. She has been married for 35 years to Brian, a college professor and athletic trainer. For 25+ years, she and her husband served on a Christian college campus as the on-campus parents, where Brian was a professor and dean of students. They reside right outside of Washington, DC, and are the parents of two grown children, one daughter-in-law, one son-in-law, and one granddaughter. She recently authored her first traditionally published book, Everyday Prayers for Joy, which is available everywhere books are sold. You can find Gina at the following: Website:
ginalsmith.com
, Instagram, and at Million Praying Moms, where she is a writer.
LISTEN: Being Complete in Jesus (Understanding Matthew 5:21-48)
Hearing Jesus is a devotional journey through the gospels, where we explore the teachings of Jesus chapter by chapter. If you're seeking to live a life that reflects God's, this podcast is for you.
The views and opinions expressed in this podcast are those of the speakers and do not necessarily reflect the views or positions of Salem Web Network and Salem Media Group.
WATCH: 10 Sins Christians Downplay (and Why They're So Destructive)
Stock Footage & Music Courtesy of Soundstripe.com Thumbnail by Getty Images