Will Donald Trump Be Indicted Today? A Week "Unlike Any Other in American Politics"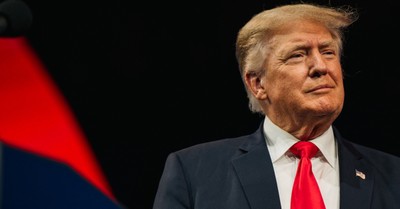 By Jim Denison, Crosswalk.com

Former President Donald Trump said Saturday that he expects to be indicted today by the Manhattan District Attorney for alleged hush money payments. Manhattan District Attorney Alvin Bragg has not commented on Mr. Trump's claim, and a spokesperson for the former president later stated that there "has been no notification, other than illegal leaks from the Justice Dept. and the DA's office" to news outlets.
However, as the New York Times notes, "If Trump is indicted, this week will be unlike any other in American politics."
What happens next?
A possible indictment was reportedly on hold yesterday until a final witness testified before a Manhattan grand jury. Experts say the jury, which meets during afternoon sessions on Monday, Wednesday, and Friday, could deliberate again tomorrow and could vote to indict Mr. Trump at that time.
The investigation centers around cash paid to pornographic film star Stormy Daniels in 2016 prior to Mr. Trump's election win. Daniels claims that she had an affair with Mr. Trump; the former president denies her claim. Mr. Bragg is expected to accuse Mr. Trump of concealing a $130,000 hush-money payment that Michael D. Cohen, his personal lawyer at the time, made to Daniels on the eve of the 2016 presidential election. Prosecutors would need to prove that Mr. Trump reimbursed Mr. Cohen and falsified business records when he did so, possibly to hide an election law violation.
According to the New York Times, "It would not be a simple case. Prosecutors are expected to use a legal theory that has not been assessed in New York courts, raising the possibility that a judge could throw out or limit the charges. The episode has been examined by both the Federal Election Commission and federal prosecutors in New York; neither took action against Mr. Trump."
If Mr. Trump is indicted, Reuters reports: "Any trial of the former US president would still be more than a year away.... and could coincide with the final months of the 2024 presidential campaign as Trump seeks a return to the White House." As a result, he could have to stand trial during the campaign or even after Election Day, "though putting a president-elect or president on trial for state charges would enter uncharted legal waters." Reuters adds: "If elected, he would not hold the power to pardon himself of state charges."
All of this would be unprecedented: no US president, sitting or former, has ever been charged with a crime.
What does this mean for our nation?
What does Mr. Trump's possible indictment say about our political culture?
The New York Times reports, "In the short term, an indictment seems likely to help Trump politically. It will draw attention to him, and he often performs best when he has a foil." Columnist Maggie Haberman said, "I do think an indictment, if it happens, will galvanize his supporters. He will describe the case as trivial, a point some Democrats have argued, and he will insist it's all part of a broader Democratic Party conspiracy against him to help President Biden in his re-election effort."
Liam Donovan, a veteran Republican strategist, took the view that an indictment may help Mr. Trump in the primary but hurt him in a campaign against President Biden: "Legal escalation would be a significant blow in a general election where he needs to broaden his support, but any event that polarizes the primary in terms of pro- or anti-Trump sentiment only serves to harden his core support."
Here's what seems less likely: that an indictment will change many minds about Mr. Trump. His supporters will see such an action as a politically motivated witch hunt that further proves the need for his election to "make America great again." His detractors will see an indictment as further proof that he is unfit for office. Those who are ambivalent about him are likely not surprised by this news, however they view it.
I say all of that to make this point: our political culture is divided to a depth that raises questions about our national future. A former president of the United States and current leader for his party's presidential nomination is either the victim of a partisan witch hunt or the perpetrator of felony crimes; one would think either scenario would move the political needle. As it is, it would seem that both parties are believing and doing precisely what the other party condemns them for doing. As I noted yesterday, the depth of these divisions is unprecedented in living memory.
A friend from the past
Let's apply today's conversation to an issue even more urgent than the US presidency: the status of people's eternal souls. Like partisans in today's political environment, many non-Christians have clear opinions about Christians and reasons they believe warrant their rejection of our faith.
To be sure, their beliefs regarding Jesus and his church are often wrong, but they don't know that. In their minds, they are justified in their unbelief. To persuade them to question their entrenched opinions is challenging, indeed.
This is why following the lead of God's Spirit is indispensable in advancing God's kingdom. Jesus knows the thoughts of those he wants us to influence (cf. Matthew 9:4) and is preparing them and us today for our ministry to them tomorrow. If we will begin today by surrendering it to his Spirit (Ephesians 5:18) and then speak as he speaks to us, he will use us to change minds and souls for eternity. Today's conversation points to a second fact: It is always too soon to give up on God. He is working in ways you cannot see to effect transformation you may never get to witness. As I often say, you cannot measure the eternal significance of present faithfulness.
I'll close with a personal example: I received a text yesterday from a colleague who is at a pastoral conference and met someone who said he knew me from my college days. This person greatly understated his impact on my life: when my father died in December 1979, this man drove across Houston the next day to spend the day with me. I don't remember that he said anything, but his presence was the presence of Christ to my grieving soul. Forty-four years later, I remember his compassion as if it were yesterday.
I'll say it again: You cannot measure the eternal significance of present faithfulness.
With whom is God calling you to be faithful today?
Publication date: March 21, 2023
Photo courtesy: ©Getty Images/Brandon Bell/Staff
The views expressed in this commentary do not necessarily reflect those of Christian Headlines.
For more from the Denison Forum, please visit www.denisonforum.org.

The Daily Article Podcast is Here!