Behold (Then Sings My Soul) - Beautiful Worship with Hillsong United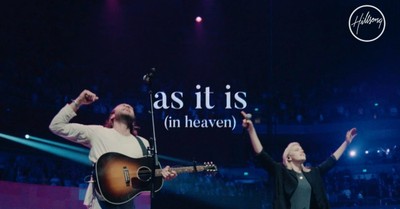 By from GodTube.com, Crosswalk.com
The spontaneous tune in his head talked about the Father, then the Son, then the Holy Spirit, and then when Jesus returns. Joel said he just started unpacking who God is. 'Behold' was a theme for their church that year, and Joel says that every time the word is used in the Bible, God is getting ready to do something big. The lyrics "then sings my soul" weren't part of the original lyrics but felt like such a natural response.
The video starts off with soft music playing and clouds rolling on the screen with the lyrics behind the band. When they begin the second verse, the image changes to a beautiful cross, and the girls start singing, their angelic notes adding to the passion of the performance.
The sound is amazing. Everyone in the crowd is singing and worshipping. The video pans the crowd, and most people have hands raised, eyes closed, and are singing right along with the band.
The band is also definitely worshipping. You can feel the presence of God throughout the whole video. Hillsong is not about being flashy. Joel has a hole in his shirt, and his hair is tousled, showing that he doesn't care what he looks like on the outside. He is full-on for God, and that's all that matters.
Brooke Fraser takes the third verse. Her soft angelic voice adds so much to the song.
Next, a pure white dove appears on the screen, looking like it's flying right toward the crowd. When the band builds to the chorus again, the screen explodes with color, and the dove is beautifully and gracefully flapping its wings up close and in slow motion.
The video itself has a few slow-motion clips, which add to the emotional feeling of the song and emphasize the worship that is occurring.
At the end, Joel encourages the crowd to yell out their praises which they enthusiastically oblige. And the video ends with the bass drum thumping and the crowd continuing to worship with shouting, clapping, and singing.
This song could be used as a stand-alone sermon and worship service. It is both moving and breathtaking, some would say, just like God's creation.
"O Lord, how great are thy works!" -Psalm 92:5
This content originally appeared on GodTube.com; used with permission.
Photo credit: ©Youtube.com/Hillsong Worship