4 Things Parents Should Know about The Little Mermaid, Disney's Live-Action Remake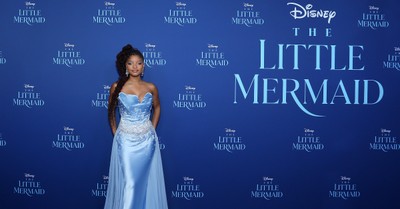 By Michael Foust, Crosswalk.com
Ariel is a young mermaid with a big heart and a desire to explore.
Yes, she loves her six sisters and her intimidating father -- King Triton, the ruler of the sea. Yes, she enjoys her scenic water underworld, including her crab companion Sebastian and her fish friend Flounder.
Ariel, though, wants to know what lies beyond her kingdom: What is that bright light shining overhead? What are those massive objects sailing atop the ocean? And what are these strange, other-worldly things that litter the ocean floor?
Eventually, Ariel defies her family's wishes and swims to the surface. There, she watches as a ship sinks. She sees dozens of men abandon their vessels and dive into the water. She also watches as one of them -- a well-dressed, handsome man she later learns is the queen's son -- lifelessly sinks below the surface. Ariel rescues him and drags him to shore. But before he can fully wake up and people see her, she swims away.
Unfortunately for her father, Ariel is now in love with a creature from another kingdom. Will she ever meet him again?
The new Disney film The Little Mermaid (PG) follows the story of Ariel, her romantic interest Eric, and their families. It stars Halle Bailey in the lead role, Jonah Hauer-King as Eric, Javier Bardem as King Triton, Jacob Tremblay as Flounder, Daveed Diggs as Sebastian, Awkwafina as Scuttle the bird, and Melissa McCarthy as Ursula, the sea witch.
Here are four things parents should know:
1. It's a Magical Remake
The live-action/CGI film says it's based not only on the 1989 animated classic The Little Mermaid (which won two Oscars) but also on the Hans Christian Andersen 1837 story of the same name.
In the newest film, Ariel grows enamored with the human race as she explores items from the shipwreck (she assumes a fork is a tiny trident) and dreams of what a world without water is like. Simultaneously, Eric tells his mother (played by Noma Dumezweni) that he vaguely remembers the face of a woman who rescued him. He is determined to find her.
After King Triton destroys the shipwreck in an attempt to end Ariel's fantasy, she is approached by the wicked Ursula, who offers Ariel a deal: Ariel can become a human for three days. If Eric and Ariel share a romantic kiss during that time, Ariel will remain a human forever. But if they never kiss, Ariel must serve Usrula forever. (Unknown to Ariel, Ursula erases her memory and makes her mute.)
The Little Mermaid includes the songs you love -- Under the Sea and Part of Your World, among them. (It also includes a handful of new ones.) It includes real-looking sea turtles and starfish, and snails that dance. It also includes Disney's CGI "magic" that allows Ariel and her mermaid friends to talk underwater as their hair flows freely through the waves. Perhaps we're accustomed to it by now, but it's still a visual spectacle.
2. It's a Love Story Unlike Any Other
The film begins with a quote from author Hans Christian Andersen: "But a mermaid has no tears, and therefore she suffers so much more." There may be no tears, but there is plenty of heartache in The Little Mermaid. Ariel's father bans her from interacting with the humans. (According to the film, Ariel's mother was killed by a human.) Eric's mother, too, prohibits him from interacting with other cultures. No doubt, the romance in The Little Mermaid is like countless other romances through the ages -- couples who came from different races, different classes, and different countries.
The newest film has a few differences from the 1989 version that add to the plot. Ursula is King Triton's sister. We also learn that Eric, who is white, was adopted by the queen (who is black).
3. It Celebrates Cultures and Spotlights Sacrifice
Like the previous versions, the newest film urges us to embrace people from different cultures and discard our stereotypes. King Triton tells Ariel of the humans: "They're savages!" The queen forbids Eric from dating anyone outside her kingdom, not trusting them. Meanwhile, we learn that both cultures are filled with kind-hearted, hard-working individuals who love their children and enjoy the things we all enjoy -- laughing, playing, and creating. In other words, they may look different on the outside, but they're very similar on the inside. It's a lesson grounded in Scripture (Colossians 3:11, Revelation 5:9-10).
"We're not all the same -- so why should humans be?" Ariel asks.
The movie offers solid lessons about sacrifice (Ariel, Eric, and King Triton all put their lives on the line). It also includes a lesson about temptation. (Ariel is surprised to learn that Ursula isn't as wicked as she imagined.) Ariel tells Ursula, "This is wrong. I can't do this." But she does.
4. It's Family-Friendly
No doubt, critics of remakes will comb through the plot and critique the similarities and differences.
More than likely, though, most families will love it. That's because it stays kid-friendly. (Although it's worth noting: Both films show Ariel rebelling against her father.)
It contains no coarse language, no sexuality, and no bloody violence. (Ursula, a witch-octopus, is scary-looking at times, and the ending includes more peril simply because it's real life and not animation. We also watch Ursula use a cauldron to cast a spell. The film, as you know, has plenty of magic.) Of course, the film includes plenty of bikini-top-wearing mermaids, but you already knew that, right? Ariel and Eric share a kiss at the end.
My 11-year-old daughter looked at me as we were walking out of the theater and said excitedly, "That movie made my day." I'm sure plenty of other kids will say the same.
The Little Mermaid is rated PG for action/peril and some scary images.
Entertainment rating: 4 out of 5.
Family-friendly rating: 4.5 out of 5.
Related:
Photo credit: ©GettyImages-Lisa Maree Williams / Stringer
---
Michael Foust has covered the intersection of faith and news for 20 years. His stories have appeared in Baptist Press, Christianity Today, The Christian Post, the Leaf-Chronicle, the Toronto Star and the Knoxville News-Sentinel.
Related podcast:
The views and opinions expressed in this podcast are those of the speakers and do not necessarily reflect the views or positions of Salem Web Network and Salem Media Group.