20 Magical Christmas Books to Read to Your Children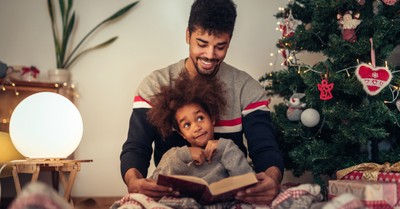 By Carrie Lowrance, Crosswalk.com
Christmas is a time of magic for kids. It can also be a time of stress and extreme tiredness. I've seen both sides of the coin while working in daycare. They get so excited by the decorations, music, parties, and pictures with Santa. The closer it gets to the holidays, the more tired, moody, and cranky they can get. This is because they stay up later, sleep in longer, and their routines are all off kilter. 'Tis the season for exhausted parents and kids.
One of the best antidotes to this is to read a book. Taking a few minutes to breathe is a great way to push "pause" and find a nice quiet place. Whether it's before bed or during a hectic day, there are lots of great Christmas books to read to your kids. This would be a great time to download some books for your kids and plan some time in your day to recharge and read a book with your kids. Here are some great ones to get you started.
1. How the Grinch Stole Christmas by Dr. Seuss
This classic tale is one of my favorites. It is a great story about Christmas spirit and is perfect for both young and old.
2. The Polar Express by Chris Van Allsburg
This story is about a young boy who is welcomed aboard a magic train on Christmas Eve and takes a trip to the North Pole. This splendid story is perfect for grandparents, parents, and kids to read together.
3. The Spider Who Saved Christmas by Raymond Arroyo
This story is about a spider named Nephila who had a very important role in the Christmas story. In revealing how tinsel came to be, it shows that there is always hope, even in the darkest places in our lives.
4. The Night Before Christmas: The Classic Edition by Clement Moore and Charles Santore
This book is a great way to start (or carry on) the tradition of reading it before bed on Christmas Eve. It's the perfect story to help kids settle in and get ready for Santa's visit.
5. Worst Christmas Break Ever (Brad Finckley Series Book 1) by Jennifer Waddle
Brad Finckley is excited about Christmas break, hoping it will be the best one ever. Soon, he finds out zombie parents, one-eyed dolls, and leftover lasagna all have something in common. This book will make both kids (ages 9-12) and parents laugh out loud.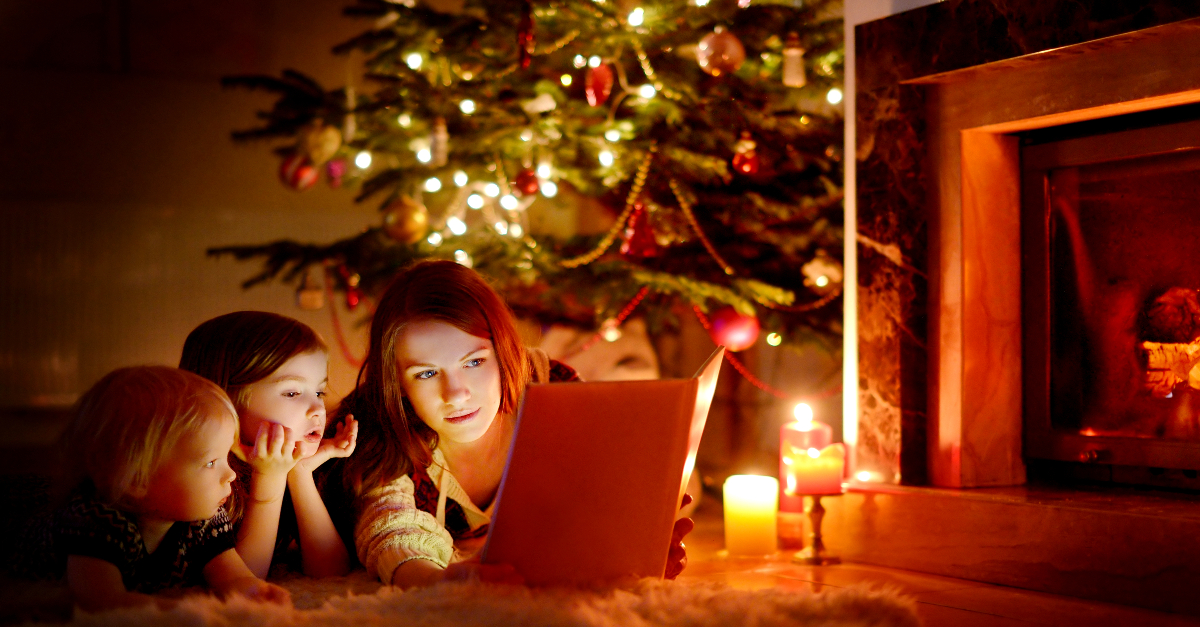 Photo credit: ©Getty/maximkabb
6. Little Blue Truck's Christmas by Alice Schertle and Jill McElmurry
Little Blue Truck is having a great time delivering trees to his animal friends. Kids can count the trees as they read the book.
7. The Snowman by Raymond Briggs
This story for ages 1-3 is about James and his magical snowman and all the things that happen to them.
8. A Charlie Brown Christmas by Charles M. Schultz and Scott Jeralds
Christmas time is here, and everyone is having a great time except for Charlie Brown. Can his friends show him what Christmas is all about?
9. Sneezy the Snowman by Maureen Wright and Stephen Gilpin
Sneezy the snowman is freezing, so he drinks hot cocoa and sits in a hot tub to warm up. To his surprise, he melts! Luckily, the kids know what to do to bring him back and make him feel good again.
10. Cats Don't Like Christmas by Andy Wortlock and Naham Ziersch
If you or your child likes cats or if you have a cat, you will like this book. Told from the cat's point of view, it explains why he doesn't like Christmas.
11. Christmas Begins With Christ by Gina Kirkland and Marissa Napolitano
This book introduces the concept of how Jesus is in our lives and how he is always around us. It also teaches that when we share love and joy in the genuine spirit of Christmas, it affects others.
12. The Nativity Book for Toddlers: The Birth of Jesus Christmas Story for Little Boys and Girls by KidsUp Publishing
This book takes the nativity story straight from the Bible and makes it easy for young children to understand.
13. What Does Christmas Have To Do With Presents: A Sweet Reminder Of All That God Has Given Us by Katherine Everglade
This book is not about presents under the tree but the presents God has given us, like love, hope, forgiveness, etc. It will help you start a conversation with your child about the true meaning of Christmas and why it's not all about the presents under the tree.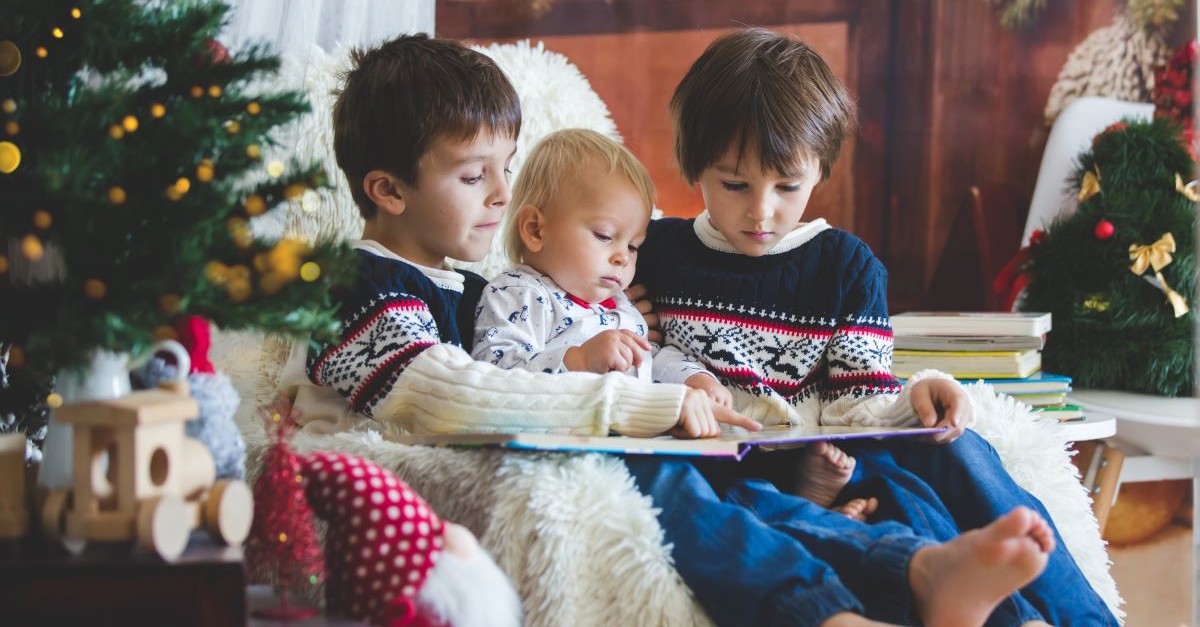 Photo credit: ©GettyImages/tatyana_tomsickova
14. Santa's Lost Reindeer by Rachel Hilz
It's almost Christmas, and Santa's reindeer are missing! What is he going to do? I love that the author, a mom of two special needs children, wrote the story and drew the illustrations with them in mind.
15. The Berenstain Bears: The Joy of Giving by Jan and Mike Berenstain
Brother and Sister Bear go to the Christmas Eve pageant, witness the first Christmas, and learn a very important lesson. It is better to give than to receive.
16. The Legend of Rudolph the Red-Nosed Reindeer by Joe Troiano
If you like the classic TV version of this story, you can now read it to your children.
17. Frosty The Snowman (Little Golden Books) by Diane Muldrow and Golden Books
This book is also based on the classic television special.
18. Merry Christmas, Curious George! by H.A. Rey and Mary O'Keefe Young
Everyone's favorite little monkey is excited that Christmas is here and can't wait to help his friends pick out a tree. Because of climbing a tree and a wrong delivery, George winds up at the children's hospital.
19. Santa's Lost Elves: A Funny Christmas Holiday Book For Kids by Rachel Hilz
Oh no! Santa's elves are lost! When he finds out where they are, his sleigh becomes a rescue vehicle to go save them. This book shows that friends and working as a team can turn any mishap into an adventure, even when things don't work out.
20. Clifford's Christmas by Norman Bridwell
Everyone's favorite red dog, Clifford, is getting ready to celebrate Christmas with his owner, Emily Elizabeth. While counting down to the big day, he gets to do some of his favorite things, like make a snowman and pick out a Christmas tree.
RELATED: Introduce Your Children to the Hearing Jesus for Kids Podcast!
Take some time to plan out pockets in your day where you can read a book with your kids this holiday season. You could read one after lunch and before a nap. Another option is when you are waiting in the doctor's office for an appointment. You could start one while you are in the carpool line waiting to pick up your older kids or for groceries to be brought to your car.
You don't always have to read the entire book at once. Having those special times during your day will help you and your children slow down and take a breath. They will enjoy a beautifully illustrated book and the bonding time they get with you, and you will feel like an even more awesome parent. Take some time to pick out some books today and get ready for a more relaxing holiday.
Photo credit: ©Getty Images/bernardbodo
LISTEN to Christ-Centered Christmas Podcasts on LifeAudio
The views and opinions expressed in this podcast are those of the speakers and do not necessarily reflect the views or positions of Salem Web Network and Salem Media Group.
WATCH: Prophecies That Foretold Jesus' Birth
See the numerous biblical prophecies of the birth of Jesus Christ and what we can learn from the Old Testament about His divinity in this collection of scripture quotes.