Can a Grieving Heart Worship?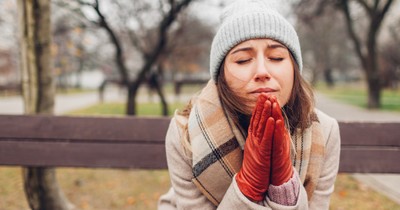 By Beth Ann Baus, Crosswalk.com
Grief is defined as a feeling of deep sorrow. It is typically associated with death, but we also know grief can come from other circumstances as well - a broken relationship, the loss of a job, a health diagnosis, or an injury…the list goes on and on.
I've been surrounded by grief for the past year and a half. My church family is shepherded by six elders, one of which is my husband. In the past sixteen months, all six of them and their wives have suffered extreme loss and experienced deep sorrow.
Three of our elders have lost a parent or in-law. These deaths included a prolonged illness, a massive heart attack, and a work-related accident. One elder lost a grandparent, one lost a brother-in-law to suicide, and another elder lost seven precious weeks with his wife and three young children to being hospitalized and intubated due to COVID-19.
When I look around our church family on Sunday mornings, I don't just see our grieving elders. I see the family grieving the loss of their infant son, the wife grieving the death of her husband, the woman grieving a cancer diagnosis, the family that will never be the same after their loved one experienced a devastating injury, and many others who are experiencing grief over such things as mental health struggles, addictions, divorce, and infertility.
What has struck me the most during this season of grief is how worship looks different for each of us when our hearts are broken. For instance, some who once danced joyfully while singing in worship now stand still and in silence. Others are worshiping with more joy than ever before, and then there are those like me and my husband who still sing, but often with tears streaming down our faces.
There are those who, amid their grief, have devoured God's Word, while others have kept it at a distance. Some who are grieving have spent more time in prayer than ever before, while others are too angry or too tired to speak with their Heavenly Father at length or at all.
Because grief is multi-layered, it doesn't surprise me that our worship is affected by it and that we are all affected differently. This leads me to the question I hope to explore: Can a grieving heart worship?
Understanding Grief
The first thing we need to remember is that grief is a normal response to loss and that the depth of our grief does not necessarily indicate the depth of our faith. In other words, we shouldn't assume that the person unable to worship in their usual manner is having a crisis of faith.
Grief, for a time, changes everything. Sleep patterns and meal schedules change. Our thought patterns and decision-making skills are affected. Sometimes grieving people become forgetful and experience mood swings. And this is speaking of "normal" grief, not grief that turns to depression, which can further magnify all these symptoms.
We must remember that, in the midst of our grief, we can still approach the throne of grace. Our Heavenly Father is not surprised when our grieving hearts can't sing, pray or focus on Scripture. He isn't offended when our exhaustion overrides our zeal in dark seasons.
He is still here. He does not turn away from us. He does not withhold his comfort and condemn us for being distracted by our pain. He does not rush us through our grief or find our tears inconvenient.
The reality is God gave us, in his wisdom, the ability to grieve. We know from Psalm 56:8 that he stores our tears in his bottle. And knowing that when those words were written, bottles were a precious commodity and only held precious things, we should find comfort in knowing he holds our tears as something of value.
Coupling your grief with hope is the key to worshiping with a grieving heart. We love to quote 1 Thessalonians 4:13, "But we do not want you to be uninformed, brothers, about those who are asleep, that you may not grieve as others do who have no hope." And it's true we should grieve with hope, but that doesn't mean we sustain a conscious feeling of hope alongside our grief every minute of the day.
What this does mean is that we are grounded in the truth of the gospel, which is the wellspring of hope (Romans 15:13). The gospel allows us to grieve differently than the world, and it is the very foundation on which our grief will change, lighten and restore to our hearts the joy of our salvation (Psalm 51:12).
What Is Worship?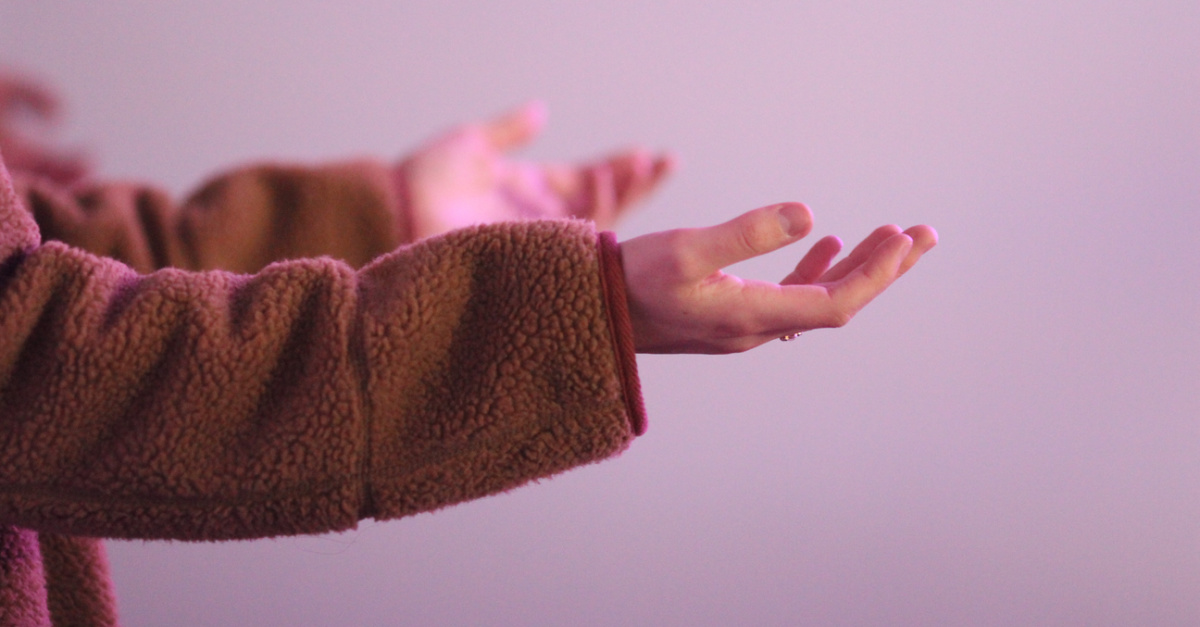 Photo credit: ©Jon Tyson/Unsplash
John Piper describes the true essence of worship as "a value or treasuring of God above all things; a response of the heart to the knowledge of the mind when the mind is rightly understanding God and the heart is rightly valuing God."
So, can a grieving heart worship God? Yes, it can, and it must if it wants to heal.
Remind your grieving heart that worship is not exclusive to your Sunday morning gathering. You can worship the Lord in your heart as you weep under the covers of your bed by surrendering to his will. You can worship the Lord as you remember your loved one and thank God for the time you had together. Acknowledging that he is your provider in a season of loss can be an act of worship.
You can worship the Lord by entrusting to him all the circumstances in your life that you don't understand and that have left you feeling numb or out of control. You can worship him by trusting in his sovereignty and resting at his feet in silence, knowing the Holy Spirit is interceding for you with groanings too deep for words (Romans 8:26).
Consider Habakkuk 3:17-18, "Even though the fig trees have no blossoms, and there are no grapes on the vines; even though the olive crop fails, and the fields lie empty and barren; even though the flocks die in the fields, and the cattle barns are empty, yet I will rejoice in the Lord! I will be joyful in the God of my salvation!"
You can, indeed, worship in spirit and in truth (John 4:23-24) with a grieving heart.
R.C. Sproul says, "The very heart of worship, as the Bible makes clear, is the business of expressing, from the depths of our spirits, the highest possible honor we can offer before God." In your grief, the highest possible honor you can offer before God may not be singing, praying, giving, or engaging in the preaching of his Word. In your grief, the highest possible honor you can offer before God might be simply confessing he is Lord of your life and that his will, albeit beyond your understanding, is perfect. Perhaps the highest possible honor you can offer before God is to acknowledge that his grace is sufficient and that his power is made perfect in your weakness (2 Corinthians 12:9).
Perhaps for you, the highest possible honor you can offer before God is to ask for strength to dismiss the temptations of the enemy, to not believe the lie that self-medicating through grief is more effective than allowing God to mold and grow you in the grace and knowledge of our Lord Jesus Christ.
Maybe for you, the highest possible honor you can offer before God as an act of worship is to proclaim that he, your Heavenly Father, is worth more to you than the person or circumstance for which you grieve and that you will rely on him and only him to walk you through this veil of tears.
In these acts of worship, the Lord uses our suffering to bring about endurance, character, and hope. And it is in these things we can rejoice, and these truths allow us to rejoice even in our suffering (Romans 5:3-5).
What's in Your Heart?
We should already be in the habit of examining our hearts regularly, but especially when walking through grief. I find it helpful to pray Psalm 139:23-24 and ask God to search me and know my heart, to try me and know my thoughts and see if there is any grievous way in me.
This grief my husband and I are currently walking through is not our first; we are well-acquainted with grief. And I know from experience that it's all too easy to worship my grief rather than my God, finding solace in the familiarity of sadness rather than the fullness of life that comes from our Lord.
It's easier to become idle in sadness rather than to fight to stay in step with the Spirit. It's easier to get lost in fiction than in the holy scriptures. It takes less effort to say nothing than to talk to God. It feels better to sleep than to face the day. Grief is hard. It's exhausting. It's humbling. And we come out on the other side, different from who we were when we entered.
This is why grief needs to be directly linked to worship. Grieving without worship is like washing without soap. You come out of a dip in the water differently than when you went in, but without soap, the dust from the day has turned to mud. The soap washes you clean and allows you to start each day anew, even though there will be a new collection of dust. Thus we wash, with soap, regularly.
In the same manner, if we grieve without worship, we slip deeper and deeper into sadness as all the dust from the day collects in our hearts. It is through worship, by the power of the Holy Spirit, that our hearts are refreshed. As we draw nearer to God in our grief, we find the strength to continue on, to continue grieving, but in a way that honors our Lord and Savoir.
Grief, coupled with worship, takes us from a place of despair to a place of lament. Lament is a turning to God, a practice that allows for complaint and voicing distress, but also one that leads us to recall God's faithfulness, and which leads us to a deeper trust and to more fulfilling worship. It's a beautiful cycle that works together and is easily missed when we neglect worship in the midst of our grief.
Now, don't misunderstand; rest is necessary, especially in grief. Escaping into fiction can be a welcome distraction. And silence can be a blessing. Yet, in our grief, we must take care not to allow these means to replace our crying out to God, the offering of our highest possible honor in an act of worship.
Isaiah 53 describes Jesus as a man of sorrows. He, too, was familiar with grief, and Hebrews 4:15 tells us that he can empathize with us in our cries of distress. May you find comfort in Psalm 34:18, which says, "The Lord is near to the brokenhearted and saves the crushed in spirit."
It is this truth that should drive you to worship as your grief allows.
If you are in a season of grief and find that you intentionally do not engage in worship due to a hard heart toward God, it might be time to speak to someone, not only about your grief but also about what's going on in your heart. And even with a heart eager to worship, it's always helpful to talk to someone about your grief. You can find a certified biblical counselor here that would be happy to walk this road with you.
Photo credit: ©GettyImages/Maryviolet
Beth Ann Baus is a wife and mother of two adult sons. She is a freelance writer and author of Sister Sunday, My So Much More, and His Power, Our Weakness: Encouragement for the Biblical Counselor. In her writing, Beth often pulls from her own experiences of abuse, anxiety, depression and OCD. Beth has a heart for homeschooling, women's ministry, and is an ACBC-certified Biblical Counselor. She loves serving alongside her husband and pointing couples to the Word for strengthening their marriages and home life. You can find more from her at www.bethannbaus.com.
Related podcast:
The views and opinions expressed in this podcast are those of the speakers and do not necessarily reflect the views or positions of Salem Web Network and Salem Media Group.
Related video:
The church is a family, not by blood, but by the Spirit. If more people saw the church as a family with her fellowship and flaws, then fewer would be leaving it. -Robert Hampshire